Welcome to our informative article that focuses on helping you choose the right residential locksmith for your needs. When it comes to securing your home, finding a trusted professional is essential. In this article, we will provide you with valuable tips and guidance on how to select a residential locksmith you can rely on. From evaluating their credentials to assessing their services, we've got you covered. So, let's dive in and discover the key factors to consider when seeking a trusted residential locksmith.
Credentials and Experience: Ensuring Reliability and Expertise
When it comes to choosing a residential locksmith, checking their credentials and experience is vital to ensure you're hiring a reliable and knowledgeable professional. The first step is to verify their licensing and certifications. A reputable locksmith will have the appropriate licenses and certifications that demonstrate their expertise and compliance with industry standards. These credentials provide peace of mind and serve as proof that they have undergone the necessary training to handle various lock and security systems.
In addition to licensing, it's essential to consider the locksmith's experience. Look for professionals who have been in the industry for a substantial period. Experience brings a wealth of knowledge and expertise, allowing the locksmith to handle a wide range of lock-related issues effectively. An experienced locksmith has likely encountered various lock types and security challenges, making them well-equipped to handle your residential needs.
Alongside experience, take the time to research customer reviews and testimonials. Reading about other customers' experiences can give you insights into the locksmith's reliability and professionalism. Look for feedback regarding their timeliness, quality of work, and customer service. Reliable locksmiths prioritize customer satisfaction and strive to deliver exceptional service.
When reaching out to a residential locksmith, don't hesitate to ask for references. Speaking directly with previous clients can provide valuable information about their overall experience and the locksmith's ability to meet their needs. Hearing about positive experiences from satisfied customers can give you confidence in your decision to hire that particular locksmith.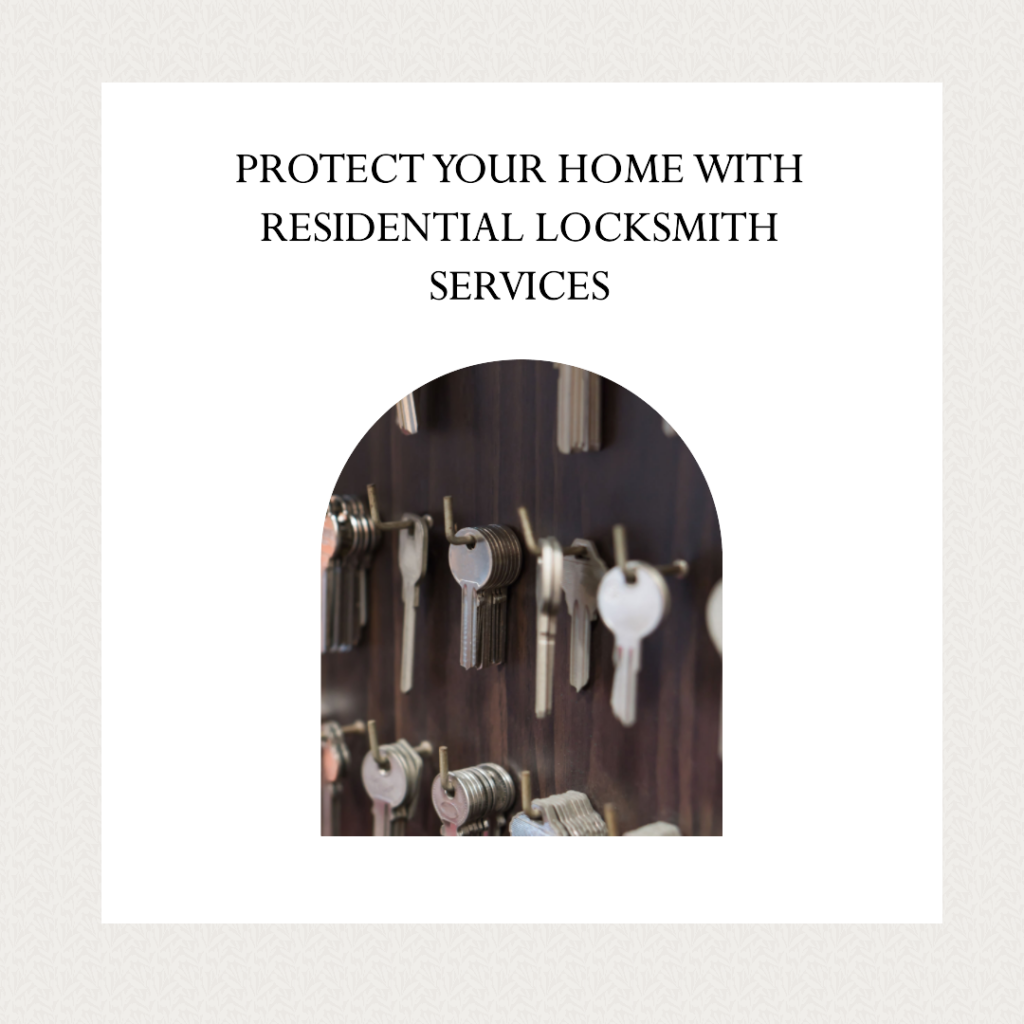 Services and Specializations: Matching Your Residential Locksmith Needs
When selecting a residential locksmith, it's important to consider the range of services they offer and their specific areas of specialization. A reputable locksmith should provide a comprehensive list of services that align with your residential needs. Let's explore some key services and specializations to look for when choosing a residential locksmith.
One crucial service to consider is lock installation and repair. Whether you need new locks installed for your recently purchased home or your existing locks, require maintenance or repairs, a reliable locksmith should be proficient in handling these tasks. They should have the necessary expertise to install or repair a wide range of lock types, including deadbolts, smart locks, and keyless entry systems.
In addition to lock services, it's essential to ensure that the locksmith offers emergency assistance. Lockouts can happen at any time, and having a locksmith who provides 24/7 emergency services can bring you peace of mind. Knowing that help is just a phone call away when you find yourself locked out of your home can make a stressful situation more manageable. Prompt and efficient emergency lockout assistance should be a priority for any trusted residential locksmith.
Furthermore, it's worth considering additional security services such as security system installation or upgrades. If you're looking to enhance the overall security of your home, a locksmith who offers expertise in security systems can be a valuable asset. They can assess your home's vulnerabilities and recommend the appropriate security measures to protect your property.
In conclusion, when choosing a residential locksmith, it's crucial to ensure they offer the services that align with your specific needs. Look for a locksmith who specializes in lock installation and repair, emergency assistance, and additional security services if required. By selecting a locksmith with a comprehensive range of services, you can rely on them to meet your residential locksmith needs with professionalism and expertise.
For reliable residential locksmith services, reach out to Liberty Locksmith. We offer a wide range of services, including lock installation and repair, emergency lockout assistance, and security system installation. Contact us today at (480) 666-8828 or libertylocksmithaz@gmail.com. You can also visit our website at https://www.libertylocksmith.us/ for more information. Trust us to safeguard your home and provide you with peace of mind.