Are you looking to bolster the security of your home or business? Lock installation services offer a crucial step toward achieving a safer environment for you, your loved ones, and your valuable assets. In this article, we'll delve into the world of expert lock installation services, uncovering the benefits they bring and how they contribute to your overall peace of mind. Whether you're a homeowner seeking to fortify your property or a business owner striving to protect your assets, understanding the importance of professional lock installation services can pave the way to a more secure future. Let's explore how these services can make a significant difference in safeguarding what matters most to you.
A Customized Approach to Security: Your Unique Needs Matter
When it comes to lock installation services, one size definitely doesn't fit all. Each property has its own layout, vulnerabilities, and security requirements. Professional locksmiths understand this and tailor their approach accordingly. Whether you need locks for doors, windows, or even specialized areas, the expertise lies in creating a security solution that perfectly aligns with your space.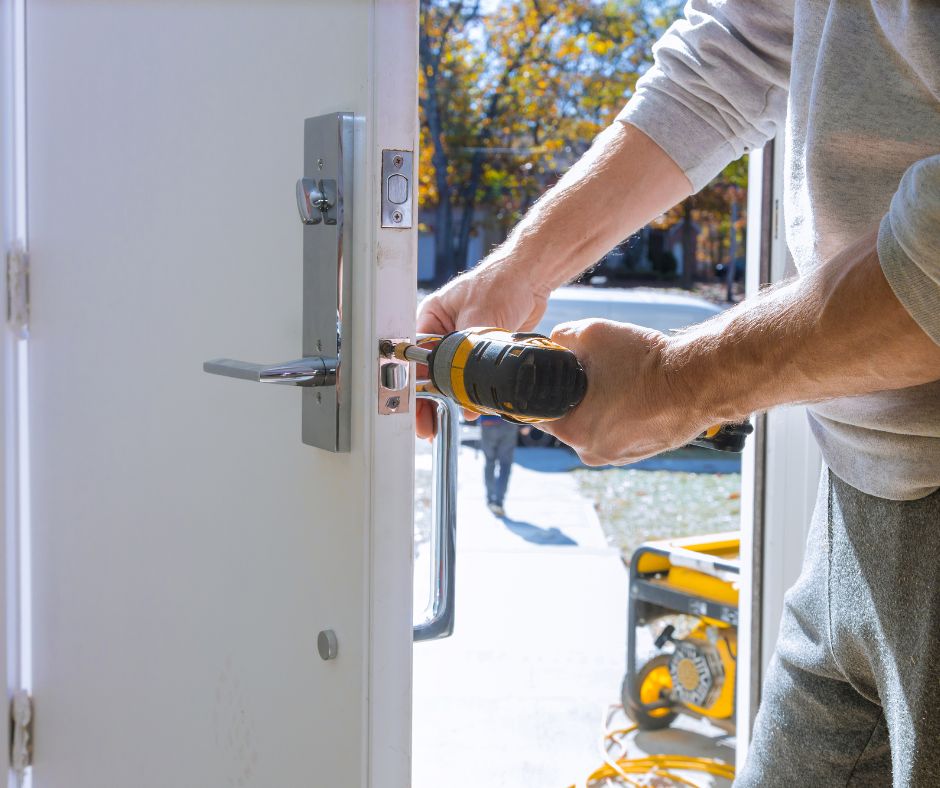 Precision and Skill in Installation: Ensuring Optimal Functionality
A lock is only as effective as its installation. Improperly installed locks can lead to vulnerabilities, rendering your efforts to enhance security ineffective. Expert locksmiths bring their skills to ensure that each lock is precisely installed, maximizing its functionality and longevity. With attention to detail and years of experience, they can identify the optimal placement for locks, reinforcing your property's safety.
Wide Array of Lock Options: Finding the Perfect Fit for You
Lock installation services offer a diverse range of lock options, each designed to cater to specific security needs. From traditional deadbolt locks to electronic smart locks, the choices are vast. Professional locksmiths can guide you through these options, helping you choose the locks that align with your preferences and budget. This variety ensures that you can find the perfect fit to suit your property's requirements.
A Layered Approach to Security: Comprehensive Protection
Lock installation is just one layer of a comprehensive security strategy. Professional locksmiths often recommend a layered approach, combining locks with other security measures like alarms, surveillance systems, and access control. This holistic approach creates a more robust security system, deterring potential threats and providing you with peace of mind.
Remember, investing in expert lock installation services is an investment in your safety and that of your loved ones. With customized solutions, precise installation, a wide range of lock options, and a layered security approach, you can enhance your property's security and enjoy greater peace of mind.
Unlocking Expertise You Can Trust: Why Choose Liberty Locksmith
When it comes to entrusting your property's security to professionals, Liberty Locksmith stands out as a reliable and trustworthy choice. With a track record of providing top-notch locksmith services, Liberty Locksmith brings a wealth of experience to the table. From lock installations to emergency lockouts, their skilled technicians are equipped to handle a wide range of locksmith needs with efficiency and expertise.
Accessible, Responsive, and Ready to Serve: Your Local Locksmith Partner
Choosing Liberty Locksmith means choosing a local partner that prioritizes accessibility and responsiveness. When you're faced with a lock-related issue, time is of the essence. With their convenient location at 2330 E McDowell Rd unit B, Phoenix, AZ 85006, Liberty Locksmith is well-positioned to quickly respond to your needs. You can reach out to them via phone at (480) 666-8828 or through email at libertylocksmithaz@gmail.com.
Don't settle for anything less than the best when it comes to your property's security. Liberty Locksmith's commitment to reliable, efficient, and friendly locksmith services makes them the ideal choice for enhancing your property's safety. Visit their website at https://www.libertylocksmith.us/ to learn more about their services and how they can contribute to your peace of mind.