Locked out of your home with no spare key in sight? Dealing with a broken lock at an inconvenient hour? When it comes to unexpected lock and key emergencies, we've all been there. That's where emergency residential locksmith services come to the rescue, providing swift and reliable assistance when you need it the most. In this article, we'll explore the importance of these services and how they can help you regain access to your home quickly and efficiently. So, let's dive in and discover the peace of mind that comes with knowing help is just a phone call away.
Round-the-Clock Solutions for Lockouts and Emergencies
When you find yourself locked out of your home, panic can quickly set in. It's a frustrating and stressful situation that no one wants to experience. But fear not! Emergency residential locksmith services are here to save the day. With their round-the-clock availability, these professionals are ready to spring into action and help you regain access to your beloved abode.
Whether you accidentally left your keys inside, lost them, or they simply refuse to cooperate with the lock, a skilled emergency locksmith has the expertise to handle the situation swiftly. They arrive at your location with the necessary tools and techniques to carefully and efficiently open your door, ensuring minimal damage and a speedy resolution.
But emergency locksmiths don't just specialize in lockouts. They are also well-equipped to handle a range of residential lock and key emergencies. From broken locks and jammed deadbolts to malfunctioning keypads and damaged door frames, these professionals are your go-to heroes. They assess the issue, determine the best course of action, and work diligently to restore the security of your home.
Remember, emergencies rarely happen at convenient times. That's why it's reassuring to know that emergency residential locksmith services operate 24/7. Whether it's the middle of the night, a weekend, or a holiday, their friendly and skilled technicians are on standby, ready to come to your aid and provide the timely assistance you need. No matter the time or the lock-related challenge, these professionals are here to ensure your peace of mind and get you back into the comfort of your home.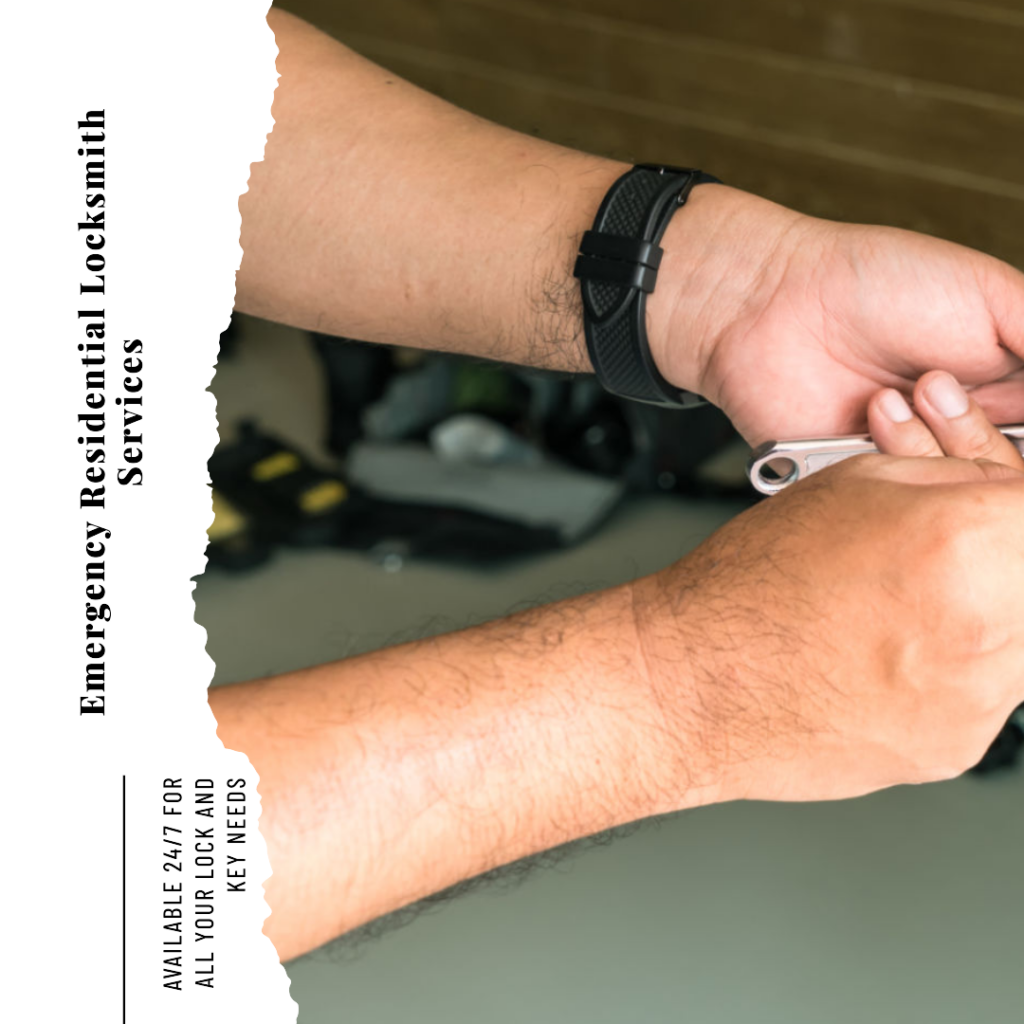 Expert Repairs and Replacements for Residential Security
When it comes to the security of your home, a malfunctioning lock can leave you feeling vulnerable and uneasy. That's where expert residential locksmiths step in to provide exceptional repair and replacement services, ensuring your peace of mind and the safety of your loved ones. Whether you need a lock repaired or replaced, these professionals have the knowledge and skills to handle the task efficiently and effectively.
One of the most common reasons for seeking expert locksmith services is a broken lock. Perhaps the mechanism has become worn over time, or maybe it suffered damage during an attempted break-in. Whatever the case may be, a skilled residential locksmith can assess the situation and determine the best course of action. They have access to a wide range of lock types and brands, allowing them to find the perfect replacement that fits your specific needs and budget.
In addition to lock repairs, residential locksmiths also excel at lock replacements. If you're looking to upgrade the security of your home or simply want to change your locks for peace of mind, they can guide you through the process. With their vast knowledge of the latest lock technologies and security features, they can recommend and install high-quality locks that provide enhanced protection against potential intruders.
When it comes to your home's security, don't settle for anything less than expert repairs and replacements. Reach out to Liberty Locksmith, your trusted residential locksmith service. With years of experience, a commitment to top-notch customer service, and a team of skilled professionals, they are dedicated to ensuring the safety and security of your home. Contact Liberty Locksmith today to schedule an appointment or for any emergency locksmith needs.
📍 Website: https://www.libertylocksmith.us/
📞 Phone: (480)666-8828
📧 Email: libertylocksmithaz@gmail.com